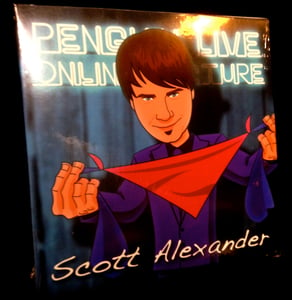 $

20.00 - On Sale
This is my first ever lecture DVD for Penguin Magic. It is part Saturday Night Live type magical skits and part magic lecture. You will laugh and learn with this one.
You will learn the inside secrets of:
Water monte
Spitball Bullet catch
Diving Fork
New Chop Cup moves
BAREHANDED shot glass production
Sure Shot Glass production
Ring Flight
Shoe Business
MIB
Plus...
Performances of:
Velocity
Shattered
Slashed
The a Final Cut (Bill in Lemon)
Plus, he'll offer tips on getting your magic up on stage, putting together an act, and making close-up tricks play on stage by changing the framing.