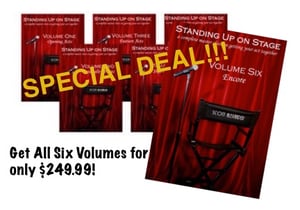 $

249.99 - On Sale
In honor of the DVD number six NEW release... enjoy this special deal for a limited time only!
PEOPLE ARE RAVING ABOUT THESE DVD AND I COULDN'T BE HAPPIER!
"THESE NEED TO BE IN EVERYONES LIBRARY RIGHT NEXT TO FITZKEE AND TARBELL!"
"DO YOURSELF A FAVOR AND GET THESE...THEY ARE LIKE MAXIMUM ENTERTAINMENT ON STEROIDS."
"I WISH I HAD THESE WHEN I WAS STARTING TO PUT TOGETHER MY SHOW...EVEN THOUGH I HAVE BEEN DOING THIS FOR 30 YEARS I LEARNED THINGS ON THESE DVDS I NEVER EVEN CONSIDERED.'
'SCOTT ALEXANDER YOU HAVE A WAY OF TEACHING MAGIC THAT IS EASYGOING AND EASY TO UNDERSTAND. THESE DVDS ROCK."
'I IMMEDIAETLY INCORPORATED THREE IDEAS FROM THE FIRST DVD INTO MY SHOW AND THEY MADE A HUGE DIFFERENCE. I CAN'T WAIT TO GET THE REST OF THESE. WELL DONE."
.
.
.
.
.
.
.
.
.
.
.
.
.
.
.